Royal Ascot employs dress code assistants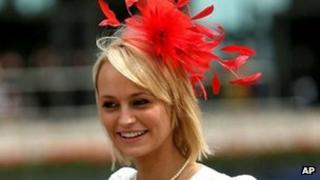 Royal Ascot has brought in a team of dress code assistants to ensure racegoers meet strict style criteria at this year's meeting.
New rules about attire, including imposing a ban on fascinators in the royal enclosure, have been introduced.
The assistants will have waistcoats, ties, pashminas and other items at the turnstiles for those who need them.
Around 300,000 people will flock to Berkshire for the annual horse racing event which starts on Tuesday.
Organisers said they had sent out reminders about the new dress code, which was announced in January, with badges and tickets.
Charles Barnett, chief executive of Ascot, said: "We have tried to provide an appropriate dress code that is clear, workable and in line with the wishes of racegoers.
"Over the last few months, a huge amount of planning has gone in to making sure that the implementation of the new code goes as smoothly as possible."