Moped rider killed in Ufton Nervet level crossing crash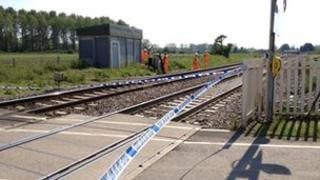 A scooter rider has been killed in an accident involving a train on a level crossing in Berkshire.
British Transport Police (BTP) said the man was hit by the train at Ufton Nervet at about 13:10 BST.
It happened on the same stretch of track where a train derailed in 2004 when it hit a car parked at the crossing. Seven people were killed.
Rail services were disrupted for several hours, with replacement buses running between Reading and Newbury.
The train involved in the latest incident was the 12:18 First Great Western service from Paddington to Taunton.
Working order
South Central Ambulance said the train driver was treated at the scene for minor injuries.
No-one else was injured.
Passengers on the train involved in the collision had a three hour wait before they were able to continue their journey to Newbury.
Other services on the line were returned to normal by 19:00 BST.
The BBC understands the driver of the high-speed train said the automatic barrier at the level crossing was closed as the train approached.
BTP said early investigations appeared to show the level crossing equipment was in working order.
In the crash in November 2004, seven people died and 130 people were injured.
There was another incident at the same spot in September last year, which was a near-miss between a train and a car.