Reading stores to face abandoned trolley fines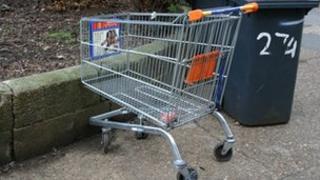 A Berkshire council is to start fining supermarkets at least £15 for every dumped shopping trolley it recovers.
Proposals to charge businesses for trolleys found abandoned were approved at a Reading Borough Council cabinet meeting on Monday.
Councillor Paul Gittings said the council was meeting the cost of recovering an average of 300 dumped trolleys every year.
The new charges will come into force in July.
Businesses offering customer's trolleys would start "using coin operated systems and ensure their employees patrol the local area", said Mr Gittings, who is Reading Borough Council's lead member for environment and climate change.
Under the plans, the council will charge £15 for removal, £7.50 a week for storage, £15 for returns and £50 to dispose of a trolley.
Mr Gittings said: "It's more symbolic than anything else but there is a serious side to this - we don't want our rivers and waterways full of trolleys."
He said he was told that when comedian David Walliams swam into Reading during his Thames challenge for Sport Relief, one of the first things he came across was a shopping trolley.
"As lead member I'm focused on ensuring Reading stays as neat and tidy as possible," he said.