Three guilty of Berkshire murder conspiracy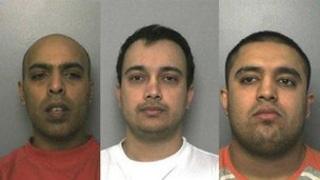 Three men have been convicted of conspiracy to murder a man in Berkshire over a land dispute in Pakistan.
Imran Khan, 34, of Wickham Road, Lower Earley, Reading, hired two men to kill Quadir Hussain.
Khan, Jaspal Kajla, 36, of Hepworth Road, Coventry and Amjed Mahmood, 31, of May Street, Coventry, were all found guilty at Reading Crown Court.
They have been jailed for life and each will serve a minimum of 10 and a half years.
'Killing for gain'
The attempted murder took place in Lower Earley, on 27 September 2010.
Mr Hussain was shot three times on his driveway following a protracted family feud in Pakistan. He survived the attack.
An argument over a house had already left one of Mr Khan's relatives dead and Mr Hussain's nephew imprisoned for life.
Judge Zoe Smith said: "This was nothing less than an attempted execution and in respect of Mahmood and Kajla, an intended killing for gain."
'Challenging and complex'
After the case Det Ch Insp Steve Tolmie said: "This was an isolated and targeted incident. It was a determined and concerted effort by an organised crime gang to kill Mr Hussain.
"He was shot at on three occasions and it is only due to luck that no bullet struck any vital organ or blood vessel. This incident could just have easily been a murder investigation.
"The investigation was challenging and complex and we would like to thank those who attended court and provided the necessary evidence to convict these three people."
Baljit Ubhey from the Crown Prosecution Service said: "As a result of this careful and thorough investigation, we were able to prove to the jury that Imran Khan had hired Amjed Mahmood and Jaspal Kajla to come to Reading for the sole purpose of shooting Quadir Hussain.
"It has been accepted by the jury that the reason for this attack was a dispute over a piece of land thousands of miles away in Pakistan."