Trees cleared to prevent another Swinley Forest fire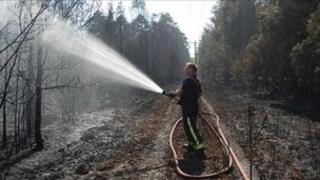 Work is under way to prevent a repeat of the fire that damaged hundreds of acres of forest in Berkshire.
More than 100,000 trees were damaged over three days as fire swept through Swinley Forest in May 2011.
Bracknell Forest Council has been cutting and clearing away dying trees on the roadside between Sandhurst and Crowthorne.
Work to create fire breaks and to stabilise and re-seed embankments will also begin later this month.
The local authority said it had been monitoring trees on Foresters Way in the hope they would recover but, as there had been no visible signs of growth, the trees have now been removed.
Foresters Way will be closed between 09:30 and 16:00 BST from 30 April for up to five days to allow the remaining work to be carried out. Diversions will be in place.
Steve Loudoun, the council's chief environment officer, said: "We are now approaching the wildfire season and, with the weather getting warmer and the lack of rain, the potential risk of forest fire is increasing.
"The work we are carrying out along the verges of Foresters Way is essential if we want to minimise the potential risk of fire and reduce the risk of dead trees from falling."
The fire service believes the county's largest ever blaze was sparked by children who lit a fire in the area.
Volunteers have already been working to replant more than 85 acres of the damaged woodland. About 220 acres needs replanting.