Problem pole removed from narrow Berkshire footpath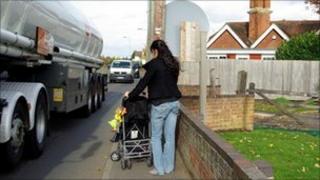 Campaigners have won a battle to remove a telegraph pole from a narrow Berkshire footpath.
The path on Waltham Road, Woodlands Park, Maidenhead, was labelled "dangerous" by those using it with either pushchairs or wheelchairs.
The telegraph pole was removed by BT engineers last week after a request from residents.
Previously, the council said there was a "reasonable alternative" to the footpath on the other side of the road.
More than 100 signatures were added to a petition last year, which was presented to the Royal Borough of Windsor and Maidenhead Council. Despite the campaign, it felt there was sufficient pedestrian access to the other side of the road.
Campaigner Heather Scott, from Working for Woodlands Park Village Association, was delighted to see the problem resolved.
She said: "I'd written off to BT's chief executive to tell him about the delay and didn't expect to hear anything else.
"But, last week their complaints department wrote to me to say the letter had been received and work would be carried out as soon as possible."
A BT spokesperson confirmed Openreach engineers were on site last week to remove the pole and said: "We take health and safety issues extremely seriously and are pleased to have worked closely with the Woodlands Park campaigners to make this happen."