Swinley Forest fire crews in new wildfire warning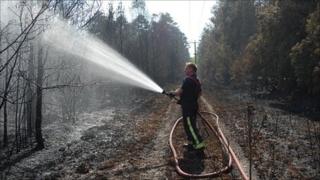 Berkshire firefighters who tackled the Swinley Forest blaze a year ago have warned of a rising risk of wildfires.
Warmer temperatures and the recent dry spell has heightened fears of a repeat of the fire which destroyed thousands of trees over three weeks last May.
The fire service believes the county's largest ever blaze was sparked by children who lit a fire in the area.
Volunteers have been working to replant more than 85 acres of the damaged woodland.
Group manager Paul Jacques said: "This is traditionally the time of year when people start to get back out into the countryside and of course it's people who cause this problem.
Windsor Castle fire
"But there are a number of simple measures that can help stop these fires starting in the first place."
He said smoking materials should always be extinguished before being discarded, barbecues should only be used in designated areas and open fires should not be lit.
Mr Jacques added: "I think it [the Swinley fire] did come down to some young children playing in the area starting a small fire which as always turned into a much larger fire later on."
Fire chiefs said it was the largest blaze in Berkshire's history, exceeding the scale of the 1992 Windsor Castle fire in terms of resources deployed.