Man admits trespassing within grounds of Windsor Castle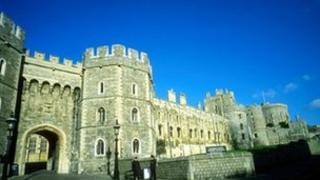 A man has offered an apology to the Queen after admitting trespassing in the grounds of Windsor Castle.
Robert Pennefather, 32, of County Tipperary, in the Republic of Ireland, scaled a 8ft (2.4m) gate at the royal residence while drunk in November.
He received a suspended jail sentence and was banned from UK pubs for a year at Westminster Magistrates' Court.
Pennefather came within 65ft (20m) of the monarch's private apartments. The Queen was not in residence at the time.
Chief magistrate Howard Riddle said he was satisfied Pennefather posed no risk to anyone and had no intention of entering the castle during the incident in the early hours of 6 November.
'Drunken folly'
Handing down a 14-day jail sentence, suspended for a year, and a £1,000 fine, Mr Riddle said: "This is a very serious matter as you must indeed be aware. There was a significant breach of security.
"It must have caused very significant alarm and distress to those in the castle and those whose job it is to protect those who live in the castle."
The court heard that Pennefather, of Cois Na Habhainn, Mullinahone, had been out drinking with two colleagues since 21:00 GMT in nearby Colnbrook before getting a taxi to Windsor, where they had gone to a couple of nightclubs.
At 03:34 GMT, police on duty at the castle detained him after seeing him on CCTV cameras inside the grounds, "staggering" around along Cambridge Drive, close to the Cambridge Gate entrance.
Pennefather's defence lawyer, Ian Brownhill, called it a "case of drunken folly" and said his client thought he was taking a shortcut back to his lorry where he was going to spend the night.
He told the court: "He's asked me to put forward an apology, firstly to the Queen and the Duke of Edinburgh, and secondly to the royal protection unit."