Poole residents asked for views on beach hut lease plans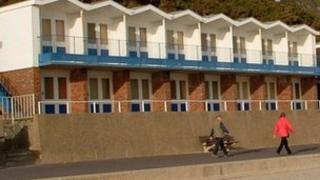 Plans to reduce beach hut waiting lists in Dorset by restricting leases have been opened to public consultation.
Currently tenants in Poole can renew their contract year on year but the local council wants to introduce five and ten-year leases.
The Borough of Poole said it wanted to make the "huts more accessible to a higher number of residents".
Some current leaseholders have said they are "very angry" at the proposals.
The council said there are currently 339 people on a closed waiting list for 962 huts that are let to residents using an ongoing annual licence agreement.
Under this arrangement, between 40 and 60 huts become available each year, with an approximate waiting time of up to 10 years, a council spokesman said.
More than 100 beach hut tenants have formed the Poole Beach Hut Association to fight the plans.
Its chairman, Bob Lister, said there were alternative ways of reducing the waiting lists, such as adding "100 new huts to spare locations and halve the waiting list overnight".
The public consultation closes on 30 April 2012.