Diamond Jubilee: Reading's city status bid fails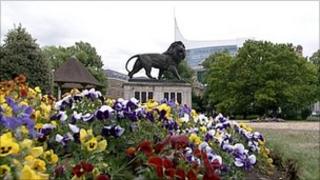 Reading in Berkshire has failed to gain city status as part of the Queen's Diamond Jubilee celebrations.
The new cities will be Chelmsford, Perth and St Asaph, it was announced on Wednesday.
It is the third time Reading, which had been the bookmakers' favourite to receive the honour, has missed out on gaining city status.
Jo Lovelock, leader of Reading Borough Council, said the experience had been a "rollercoaster".
"The rumours were flying around it was us and Perth, but then we heard it was Chelmsford," she said.
"We believe that Reading is a city in all but name, people who come here don't understand why we're not, particularly international visitors."
Ms Lovelock said no feedback had been given on why the previous bids had not succeeded, so it was difficult to know why this bid had also failed.
The Cabinet Office said "brief comments" would be given to local authorities about their bids, although it confirmed no reasons would be given for applicants' success or failure in the competition.
It said city status was "not a right" to be claimed by places fulfilling a list of criteria, as this might devalue the honour.
'Disappointing news'
However, when this year's competition was launched in 2010 it said among the things that would be considered would be the history of a town, its vibrancy, its identity and its community.
Civic chiefs had said achieving city status would have brought huge economic, cultural and social benefits to the area, as well as a jobs boost.
However,Sir John Madejski, chairman of Reading FC, had previously said he had concernsabout the bill to the taxpayer if the city bid was successful.
Reading East MP Rob Wilson said after the announcement: "This news will come as disappointment to the people of Reading and all those who have worked on the bid.
"Reading is a city in all but name and I will continue to campaign for the best investments to deliver on a vision for our continued prominence as the economic powerhouse of the Thames Valley."
In 2000, Reading lost out to Brighton and Hove, Wolverhampton and Inverness in city status bids and in 2002 to Preston and Newport.