Professional Jockeys Association combats 'risky' weight loss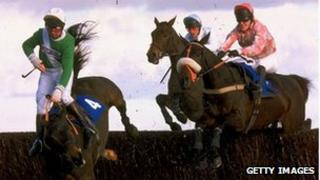 Heading to a sauna before a race is a common ritual for many jockeys - not to relax, but to lose those few extra pounds before racing.
Racing legends including Frankie Dettori havespoken in interviews of their battles to stay under their "natural weight".
Tony McCoy, who stands at 5ft 10in tall, has been known in the past to slim down for some rides to 10 stone, a stone-and-a-half below his natural weight, with a punishing diet of saunas and snatched snacks.
A recent academic study found 82% of the 99 jockeys surveyed took "extreme measures" when dieting, ranging from exercising with "sweat suits" to fasting, skipping meals or vomiting before a race.
The Berkshire-based Professional Jockeys Association is now employing three extra members of staff to help stop jockeys using dangerous methods to lose weight.
Anna-Louise MacKinnon, medical advisor at the association, based in Newbury, said they had recruited three new members to their nutrition team to bring new ideas and approaches to diet.
She said there was no "hard evidence" that rapid weight loss methods were dangerous, but said anecdotally she had been told by jockeys that head injuries and concussions were harder to recover from when the rider was dehydrated.
'Sweating in bath'
She said there were also concerns about dehydration weight-loss methods leading to a lack of concentration which might lead to more accidents while riding.
Susan Lennie, a lecturer in nutrition at Robert Gordon University, warned that jockeys could damage their health by losing too much too quickly.
However, retired jockey Luke Harvey said he did not know of any jockey who had suffered ill health through rapid weight loss.
Mr Harvey, now a BBC racing correspondent living in Lambourn, said: "When I was riding I spent quite a bit of time sweating in the bath before I went to the races and often had a sauna at the races as well, and quite often went running with a sweatshirt on to lose a couple of extra pounds.
"It's standard procedure really.
"In actual fact, there are few fitter sportsmen than jockeys. If you were drastically dehydrated you wouldn't be able to perform at your optimum level."
Ms Lennie said there was "convincing research" that rapid weight loss impacted health and performance, with dehydration methods the most risky.
She said: "The dehydration can cause changes in blood flow, body temperature and cardiovascular function.
"But the effects are not just physical; psychological consequences from rapid weight loss methods have also been observed such as mood swings, poor decision-making and fatigue."
However, Mr Harvey said there were just as many dangers posed by obesity, as there were through sportsmen such as jockeys being underweight.
Ms Lennie published her findings from the survey with Oxford Brookes postgraduate student Nora Ni Fhlannagain.