Berkshire harassment victim backs right-to-ask pilot scheme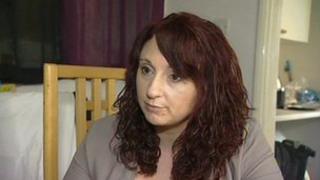 A Berkshire family who suffered at the hands of a convicted sex offender have welcomed a scheme allowing people to ask for a partner's criminal history.
Tracey Williams and her daughter fell victim to a campaign of harassment by Ms Williams partner, Jason Woods.
She said she had to change her whole life and is always "living in fear".
The year-long trials giving people the right to ask for information will run in Greater Manchester, Nottinghamshire, Wiltshire and Gwent.
The scheme has been called Clare's Law, after Clare Wood, who was murdered by an ex boyfriend in 2009.
Clare never knew her killer had a record of domestic violence against previous partners.
The Home Office has backed the scheme which gives people the right to ask for information about the criminal records of partners, but the campaign group Refuge has said most perpetrators of domestic violence are not known to the police.
'Feel sick'
However Ms Williams, who met her tormentor Woods at a time when he was a patient at Thornford Park Hospital in Thatcham, supports the scheme.
Woods admitted he had sexually assaulted an eight-year-old girl, but that it was 20 years ago when he was just 16 and he was a changed man.
Ms Williams was never told he had attacked two other women and had violent sexual fantasies.
Woods had also spent time at Broadmoor high-security psychiatric hospital.
Ms Williams began receiving sexual and at times threatening messages over the internet, which Woods later confessed to sending.
Her teenage daughter, who did not want to be named, was also targeted by Woods.
He was later charged with harassment and pleaded guilty. He was jailed for five months.
Ms Williams said: "To think this man's been in my family makes me feel sick.
"And even worse, that people knew about this man but we were never told of any of his history. Everything was played down.
"We just weren't protected at all.
'Sheer fear'
Describing the harassment, Ms Williams' daughter said: "I had a mail on Facebook when I was 14 saying send me a picture of your boobs.
"I didn't reply, I just deleted and blocked him straight away.
"[I found out it was him] after he confessed to my nan and mum, so I didn't know until last year.
"It was horrible, I felt sick, I was scared. I just didn't know what to do."
Ms Williams said: "I've had to change everything, my whole lifestyle, my child's school, even my job and work.
"I couldn't do my job because of the sheer fear of having to go where he knows where I'm going, sometimes late at night.
"My whole life has had to change and I'm still living in fear because of him."
The BBC has been unable to contact Woods either directly or through his family in Kent.