Reading's Station Hill plans generate 'positive' response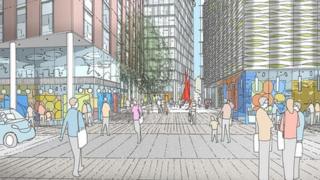 New plans for the £400m regeneration of Reading town centre have received a "positive" response from the public.
A two-day exhibition of the Station Hill proposal featured a model of the development, including offices, apartments, shops and cafes.
More than 200 people completed feedback forms with 98% agreeing the site was in need of regeneration.
The disused Friars Walk shopping centre and the Western Tower would be demolished under the proposals.
Almost 75% of people agreed to the mixed use of the site, including leisure and public spaces, while 70% thought the the scheme would help businesses in surrounding streets.
Jason Margrave, Stanhope development director, said: "We are extremely pleased that so many people took the time to come and see our proposals at the exhibition and that the feedback was so positive.
"It is clear that something must be done with this site and that we have the balance of uses right, but we now have to carefully review all of the constructive qualitative feedback we received and pick out any key themes that need to be addressed before we progress to the next stage."
A planning application could be submitted in the summer.