Slough has highest birth rate in UK outside London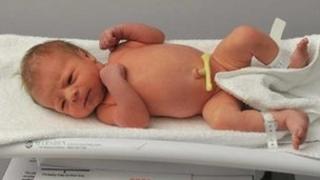 A Berkshire town has the highest birth rate in the UK outside London, latest figures from the Office of National Statistics (ONS) show.
Slough has a birth rate of 20.9 per 1,000 population, which is the highest in the South East.
The town's MP Fiona Mactaggart said she was "unsurprised" at the figures as "Slough has a much younger population than most other towns".
Slough Borough Council said future school places should not be affected.
The ONS released thelocal authority figureson fertility and mortality in 2009 on Wednesday, which showed Slough as the third highest in the UK.
Newham and Hackney had the two highest birth figures with 24.9 and 21.2 per 1,000 population respectively.
The figures are collated through registry offices.
A Heatherwood and Wexham Park Hospitals NHS Foundation Trust spokeswoman said: "We deliver an average of 420 babies at Wexham Park Hospital every month."