River Thames oil spill: Leak contained but cause not known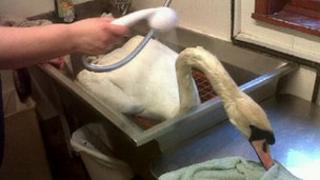 An oil spill on the River Thames that harmed 68 swans has been contained, the Environment Agency has said.
Agency spokesman James Liney said CCTV cameras were being used to try to find the source of the leak near Windsor, Berkshire.
The birds have been removed from the river and are being cleaned by Eton-based charity Swan Lifeline.
The oil leaked into the River Thames between Eton Bridge and the leisure centre in Windsor on Monday.
'Big sock'
Mr Liney said the leak had been contained by a "big sock that floats on the river that holds back any excess oil that is coming through the surface drain".
Of the oil, he added: "We don't know where it's come from, we're looking in the area south of the leisure centre in Windsor. Teams have been cleaning that whole area.
"CCTV cameras are out there at the moment and we are working with local businesses asking questions about where this oil may have come from."
The Environment Agency is working with Thames Water to remove any residual oil in the drainage system.
The Queen's swan marker, David Barber, said he was concerned the swans may have ingested some of the oil.
Last year a virus also killed more than 150 swans in the same stretch of the Thames.