River Thames oil slick: Berkshire charity saves 68 swans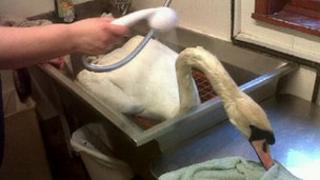 Berkshire charity Swan Lifeline has been involved in cleaning 68 swans after oil leaked into the River Thames between Eton Bridge and the leisure centre in Windsor on Monday.
The stretch of the river was sealed off so the Environment Agency could clean it up.
The Queen's swan marker David Barber said there was a "lot of oil in the water".
He was concerned the swans may have ingested some of the oil.
"We don't know what damage there will be from that," he said.
The agency will now look into how the oil was leaked into the River Thames.
Last year a virus also killed more than 150 swans in the same stretch of the Thames.