Noisy cockerels gave Berkshire neighbours sleepless nights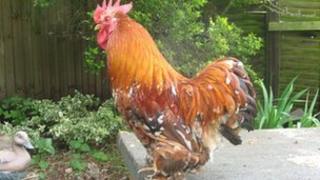 A cockerel owner has been fined £150 after his birds kept neighbours awake with up to 83 crows an hour early in the morning.
Bracknell Forest Council prosecuted Henry Purvey following complaints from neighbours in Sandhurst, Berkshire.
Purvey pleaded guilty to failing to comply with a noise abatement notice at Reading Magistrates Court.
The 72-year-old, who owns two cockerels, hens, ducks and ferrets, describes himself as a "country man".
He said: "It's disgusting but I'll grin and bear it.
"I've lived here for 46 years. I was here before the other houses were built."
Purvey, of Wellington Road, was fined £150 for three offences and ordered to pay costs of £500 to the council, plus a £14.60 victim surcharge on Thursday.
He said he would now keep the cockerels in a smaller covered cage overnight to "muffle" the crowing.
Repeated crowing
The case was brought after the council's environmental health team received complaints from Purvey's neighbours in April 2010 about the cockerels regularly and repeatedly crowing in the early morning.
The inspectors served a noise abatement notice on Purvey in July 2010 which ordered him to keep the birds quiet between 22:00 and 07:00 every night.
However, in June 2011 a neighbour contacted the council again to say he and his family were still having their sleep disturbed by the crowing of the cockerels.
An inspector investigated the complaints and recorded 83 separate cockerel crows coming from Purvey's house between 06:00 and 07:00 on 7 June.
A further 97 separate cockerel crows were recorded overnight between 8 June and 9 June, during the hours of prohibition.
The case was referred for prosecution because the noise abatement notice had been breached.
David Steeds, Bracknell Forest Council's head of environmental health said: "Residents have every right to a peaceful night's sleep.
"Noise, whether it's from a cockerel crowing at dawn or a very loud party late into the night, can be very distressing and we will make every effort to ensure people who break the law in this respect are prosecuted."