David Walliams reunited with River Thames charity swim dog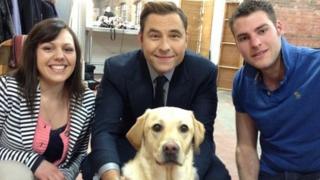 Comedian David Walliams has been reunited with the dog he rescued during his River Thames charity swim.
The Little Britain star had arrived at Cookham Lock in Berkshire during his 140-mile challenge last September when Vinnie the Labrador leapt in.
Walliams swam over to the dog and "lifted him out by his bottom" as he struggled to climb the 3ft bank.
The dog's owner Gina Fidler said the TV star was "excited" to see Vinnie again and had fun playing with him.
Walliams, who met up with 18-month-old Vinnie on Friday for a Radio Times photoshoot, has raised more than £1.1m for Sport Relief as part of the Big Splash Challenge for Sport Relief.
'Humongous leap'
The distance is equivalent to swimming the Channel seven times.
Miss Fidler, from High Wycombe in Buckinghamshire, said: "He [Walliams] was quite excited, he really enjoyed playing with Vinnie and running around the studio with his ball.
"He said he was a great dog and was really happy to see him again."
Vinnie suffers from a bad hip and undergoes frequent hydrotherapy sessions.
"He was encouraged to swim when he was younger to build up his muscles so whether it's a puddle or a river he's in it as soon as he sees it," Miss Fidler added.
She watched last year as Vinnie took a "humongous leap" to join Walliams in the Thames.
The comedian turned around and helped him back to dry land as he struggled up the bank.
The new Britain's Got Talent judge tweeted a picture of himself with Vinnie on Friday.