London 2012: Slough O2 staff in remote working trial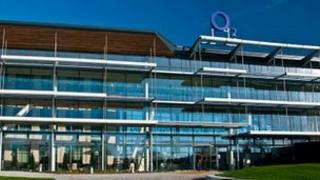 Thousands of staff at mobile phone giant O2 will be working remotely in an experiment to see how businesses can avoid any Olympic Games disruption.
The one-day trial on Wednesday will see 2,500 staff at the firm's headquarters in Slough, Berkshire, working from home, cafes and O2 stores.
O2 business director Ben Dowd said the Games would bring "expected operating, travel and business challenges".
He said the results would be published to help companies' "contingency plans".
According to O2 research, one third of UK businesses are expected to encourage flexible working in July and August as "hundreds of thousands of spectators descend on London and the other host cities".
Mr Dowd said that, aside from the Olympics, "growing numbers of businesses will need to adopt remote working as a policy" in the near future.
"We believe a cultural step-change is under way affecting staff and businesses," he said.
"Work increasingly becomes something we do, rather than a place that we go."
Thousands of civil servants have been working from home this week in a similar trial.
But the London Organising Committee of the Olympic Games and Paralympic Games (Locog) has warned with many sports fans predicted to follow the Games online, workers with slow internet connections or in areas of high usage could struggle to work from home.
Locog said: "It is possible that internet services may be slower during the Games or in very severe cases there may be drop outs due to an increased number of people accessing the internet."
A document issued by Transport For London (TfL) has encouraged flexible working, stating it would "enable businesses to deal with major events that can affect operations, such as the 2012 Games".
Mark Evers, director of games transport at TfL, said O2's working from home trial was "very encouraging".
He added: "It confirms they are making sensible preparations to make the most of the Games and help us manage demand for transport."