Royal Berkshire Hospital hit by norovirus outbreak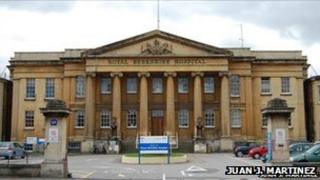 Two wards at the Royal Berkshire Hospital have been closed to new admissions after an outbreak of the winter vomiting bug norovirus.
Two other wards, which were closed earlier in the week, have now reopened at the hospital in Reading.
No restrictions have yet been put on visitors but anyone suffering from symptoms have been told to stay away.
A spokesman said people should wait at least 48 hours after symptoms have ceased before coming to the hospital.
The virus causes nausea, severe vomiting and diarrhoea.
Sufferers may also experience a fever, headaches and aching limbs.