Pangbourne plan to eradicate oak processionary moth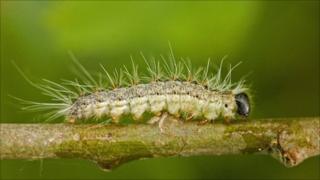 Plans are in place to eradicate a toxic caterpillar from west Berkshire following an outbreak last year.
The oak processionary moth (OPM), which hatches in July and August, was discovered in Pangbourne.
The Forestry Commission will survey an extended area around the original infested site in March and tree spraying will begin in April.
OPM hairs contain a toxin that can cause itchy skin rashes as well as eye and throat irritations.
The caterpillar also causes damage to oak trees.
Imported trees
Property owners will still be responsible for treating infected trees at a cost of about £500 a tree.
West Berkshire councillor Pamela Bale said they had negotiated with a tree contractor to reduce costs for residents.
"The objective is to eradicate it completely," she said.
In its caterpillar stage, the OPM has about 60,000 hairs.
Hairs that fall to the ground can be active for up to five years.
It is thought the moths were brought into the UK on trees imported from Europe for a landscape project.
A population then established itself in the west London area in 2006.
The species was discovered in Pangbourne in 2010.
Sighting reports can be sent to Forest Research, part of the Forestry Commission, on 01420 22255.