Mental health beds moved from east Berkshire to Reading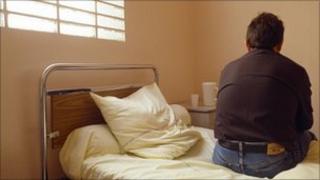 NHS Berkshire has taken the decision to move all its mental health beds from east Berkshire hospitals to a purpose-built facility in Reading.
Patients from Slough, Ascot and Maidenhead will be moved up to 20 miles to Reading's Prospect Park Hospital over the next 18 months.
Campaigners say a new facility should have been built in east Berkshire.
NHS Berkshire said a new £20m facility was "unaffordable" and east Berkshire's facilities were "outdated".
Slough Labour MP Fiona Mactaggart and Maidenhead Conservative MP Theresa May both said they were "disappointed" at the decision.
Berkshire Healthcare NHS Foundation Trust currently provides hospital care for people with mental health problems from three sites in east Berkshire: Wexham Park in Slough, St Mark's in Maidenhead and Heatherwood in Ascot.
Mixed-sex wards
However, Ascot GP Katie Simpson said the accommodation had been "sub-standard" in east Berkshire for many years.
"It's certainly not somewhere I would want my own family members to be treated," she said.
She said St Mark's still had mixed-sex wards, in which dementia patients were treated alongside patients with depression and anxiety.
At Wexham and Heatherwood, patients are kept on old-style dormitory wards with limited access to psychological therapy, according to the GP.
Dr Simpson said transport provision would be put in place to help visitors come to see patients in hospital, and there was a budget of £100,000 a year to help with this.
'County asylum'
Ms Mactaggart said the move to Prospect Park was a result of the cuts, although she believed the care would be good at the new facility.
"It's a long journey, particularly when families are going to visit at the end of the day when there's rush hour.
"What I want to campaign for is better community care to reduce the number of people who end up as in-patients in what is, frankly, a county asylum."
NHS Berkshire said it was also spending an extra £207,000 on people with complex mental health needs who do not need inpatient care by improving community facilities across east Berkshire.
The trust said 2% of people receiving mental health services in east Berkshire required in-patient care, and the average length of stay was 33 days.