Whitchurch bridge repairs could 'threaten' listed status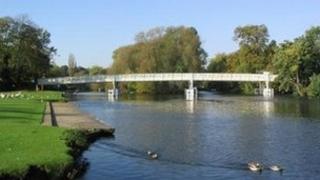 A bridge over the River Thames could have its listed status "threatened" if its owners carry out planned structural repairs, English Heritage have said.
The company behind the private toll Grade II-listed Whitchurch bridge, between Berkshire and Oxfordshire, said it needed work done "urgently".
It has blamed English Heritage's objections for delays in council planning permissions.
English Heritage said it had "serious reservations" regarding the plans.
The private toll bridge, built in 1902, carries 6,000 vehicles a day and planned work would cost an estimated £4m.
Geoff Weir, from the Whitchurch Bridge Company, said: "Its life has expired structurally, it's in poor condition.
"There are many elements to the bridge which are causing concern, particularly the pier capitals which support the whole weight of the bridge."
He added there was no danger in using the bridge as emergency repairs had been carried out.
'Lose historical value'
South Oxfordshire District Council and West Berkshire Council had granted planning approval subject to conditions and legal agreements, but the company is still awaiting formal advice of the details.
Mr Weir said objections by English Heritage, which is a statutory consultee, had caused plans to be delayed.
English Heritage spokeswoman Debbie Holden said the organisation had objected to the plans to "dismantle and rebuild" the bridge, which she said would damage "its aesthetic qualities and result in much of its historical value being lost, which ultimately would threaten its listed status".
Mr Weir said: "They think it should be a museum piece rather than a working bridge.
"They are very keen to preserve the bridge but they don't have any responsibility for safety and we do."
Frequent special inspections of the bridge will continue until it closes for reconstruction in October 2013.