Reading's Station Hill closes for 18 months for upgrade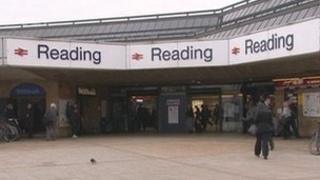 Reading's Station Hill is closing to cars and buses for 18 months as Network Rail continues with an £850m rebuilding project.
Network Rail will build a new wall between the railway and the new transport interchange in Station Hill.
Reading Borough Council will then demolish the existing road structure and construct a new interchange as part of a £13m project.
Pedestrians and cyclists will still be able to access Station Hill.
Remaining bus services from Station Hill will be relocated to the recently refurbished former bus station located nearby.
The underground drop-off car park in Blagrave Street, near the Apex Plaza, will have its opening hours extended.
It will operate seven days a week and close at 23:00 GMT, rather than 21:30, to assist people wanting to collect or drop off people at the station.
Tony Page, Reading's lead councillor for regeneration, transport and planning, said the works would "inevitably cause disruption" but would be "worthwhile in the enormous benefits to be delivered".