Berkshire incinerator opponents criticise application timing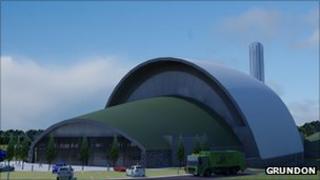 Campaigners against plans for an incinerator in Berkshire have accused the firm behind it of deliberately making it hard for people to respond.
Grundon wants to build the facility on the Old Kiln Quarry site beside the M4 motorway at Chieveley.
The West Berkshire Against Grundon Incinerator group says the application was submitted just before Christmas so that fewer people responded.
Grundon said it had not expected the plans to go public until next year.
The site chosen is in an Area of Outstanding Natural Beauty.
'Every tactic possible'
Simon Conington, from West Berkshire Against Grundon Incinerator, said: "Grundon is a commercial company and this venture is a completely commercial venture.
"[The incinerator] is not required in West Berkshire; it's not in partnership with West Berkshire District Council - so I'm sure they'll be using every tactic they possibly can to get this approved.
"Possibly by putting it in at this time of the year they are hoping that it will take away from our ability to respond to it."
The waste management firm said it had not timed the plan to deliberately make it difficult to respond.
It said the proposal had also been revised in response to local opposition, with the plant's capacity cut from 350,000 to 250,000 tonnes.
The plans were submitted to West Berkshire Council on 20 December and a public consultation will run until the end of January.
The campaigners have called Grundon's scale-down of its original plans "minor", and said the incinerator would damage the landscape and lead to a rise in vehicle numbers.
Grundon has said the incinerator would provide a safe, efficient and environmentally sustainable way of dealing with waste.
As well as the reduction in capacity, the height of the proposed chimney stack has been reduced from 280ft (85m) to 245ft (75m).