Reading Cow Lane bridge lifted into place after delay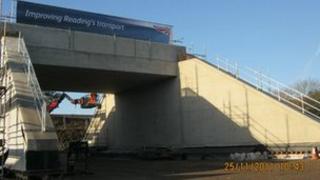 A new 1,600-tonne bridge has been installed in Reading.
One of two bridges in Cow Lane was demolished on Christmas Day but the installation of its replacement was delayed because of water in the foundations.
It was finally manoeuvred into place with a 66-axle vehicle on Tuesday morning. Crowds of people turned out to watch the seven-hour operation.
Cow Lane will be closed until 30 January and diversions are in place.
Trains are due to start running over the new bridge, made of concrete and steel, later this week once the tracks are replaced.
The work will allow for two lanes of traffic, a cycle lane and a pavement under the new bridge.
It will mean double-decker buses can use the road.
Network Rail project director Bill Henry said the bridges were a "notorious bottleneck".
The new bridge structure has been built at a nearby site and is part of the £850m Reading Station redevelopment.