Shaleem Amar hammer murder: Four men jailed for life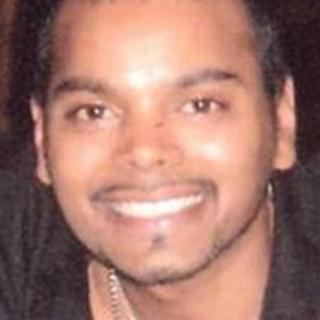 Four men have been jailed for life for murdering their business partner who was found dying and covered in sand in the back of a van in Berkshire.
Father-of-three Shaleem Amar, 33, had been hit with hammers.
He was found when police stopped the van in London Road, Sunningdale, Ascot, in November 2010.
Robert Derek Johnston, 57, his sons Tom, 25, and Ben, 27, and friend Shaun Matthews, 56, all from Cambridgeshire, were jailed at Reading Crown Court.
The jury found Tom Johnston and Matthews guilty on Monday afternoon, while Robert Derek Johnston and Ben Johnston were found guilty on 15 December.
The Johnstons, all of Town Lane, Pampisford, near Cambridge, and Matthews, of Duxford Road, Whittlesford, near Cambridge, had all denied murder.
Judge Zoe Smith told Robert Johnston, known by his middle name, Derek, he must serve a minimum of 28 years. Ben Johnston was given a minimum sentence of 25 years and his younger brother, Tom, a minimum of 20 years.
Matthews will have to serve at least 25 years before becoming eligible for parole.
The men did not react as they were sentenced.
Mr Amar was attacked in the kitchen of his luxury rented home in Sunningdale on 17 November 2010 before being put in a rubble sack in the back of Robert Johnston's van.
The court was told the men planned to bury him in a large hole that had been dug by Matthews in a 10-acre field but police stopped them on A30 before they could do so.
Eyewitnesses described how the four men tried to flee on foot but were pinned down by armed officers.
Officers stopped the van after a tip-off but did not discover Mr Amar dying in the back for more than 45 minutes.
One woman watching from a nearby shop said she saw paramedics trying unsuccessfully to revive the father-of-three and was told to stay inside the shop for several hours while police dealt with the crime scene.
Earlier that day, Mr Amar's widow, Shajiba, had turned up at her husband's home to find the van blocking the drive. She sensed that something was wrong but was told that Mr Amar had gone to the airport.
After the trial she said: "It tortures me every day to think that Shaleem was dying in the back of their van when I was just yards away from him."
She added: "For me and my children this nightmare will never end and we will continue to carry the scars for the rest of our lives.
"I now have to somehow find the strength to carry on and raise my three young children without their daddy.
"Not only do I carry my grief, I also carry the pain and grief of my three young children.
"Our hearts are broken, although our memories of Shaleem will always be alive."