Margaret Thatcher: MP criticises Iron Lady film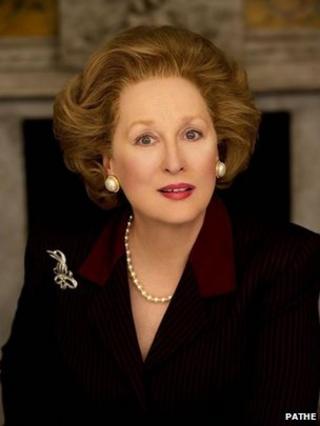 Conservative MP Rob Wilson has called for a House of Commons debate over a film of Margaret Thatcher's life, calling it "intrusive and unfair".
The Reading East MP said the film showed the former prime minister as "old, lonely, fragile and suffering from dementia".
He said The Iron Lady should have focused on her earlier years.
Commons Leader Sir George Young said he welcomed a debate saying he had heard "conflicting views" about the film.
The former minister in the Thatcher administration said that ministers should be "cautious" of giving views which could be seen as censorship, however.
Mr Wilson, who is a parliamentary private secretary to Culture Secretary Jeremy Hunt, called for the Commons debate on "respect, good manners and good taste".
He said: "I just wonder why the film-makers had to go so heavily on the mental illness, the dementia side, when Baroness Thatcher has had a very important life in the politics of this country and the world.
"It left me wondering about the humanity of the film makers who are very subtly denigrating someone who was a great prime minister."
Mr Wilson said Baroness Thatcher was still physically fit, attending the House of Lords and events such as Liam Fox's 50th birthday party in 2011.
Mr Wilson saw the film, which will not be released until 5 January, at a preview screening, along with friends of the former prime minister.
He said the film was "well made" and "brilliantly acted" but he was concerned about how Baroness Thatcher's friends and family would react to the film.
Actress Meryl Streep takes the lead role in the film, which charts Baroness Thatcher's political career as the first woman prime minister.
However, it also depicts her ailing health in old age in a way which has upset some commentators.