Reading's Cow Lane to close for six weeks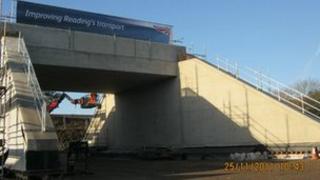 Drivers in Reading are bracing themselves for delays in December and January as one of the town's busiest commuter routes closes for six weeks.
Cow Lane will shut from Monday so one of the road's two bridges can be demolished and replaced with a new 1,600 tonne railway bridge.
The road will be closed until 30 January 2012, with diversions in place.
Replacing the bridge will allow for two lanes of traffic, a cycle lane and a pavement under the bridge.
The new bridge structure has been built at a nearby site and is part of the £850m Reading Station redevelopment.
'Well-known bottleneck'
Jim Weeden, deputy director of the project at Network Rail, said: "The Reading area project is all about unblocking the Reading area which is a well-known bottleneck for rail travellers heading west and east coming in and out of Paddington.
"The new bridge is already built and is in a yard next to the existing bridge.
"This will allow us to demolish the old one and replace the new one over a 92-hour period, that way we can get the freight trains running again."
James Freeman from Reading Buses said the company would have extra drivers to deal with potential delays on busy routes such as Oxford Road.
"It makes it more difficult, and we have to have extra resources and extra drivers waiting in case we get delays."