Turner's Donnington Castle painting fails to sell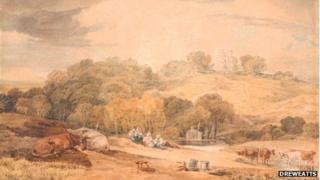 A signed painting of a Berkshire castle by JMW Turner has failed to sell at auction.
The watercolour of Donnington Castle, near Newbury, is believed to be from 1800 and was expected to fetch up to £60,000, but did not meet the reserve.
Archie Parker, from Dreweatts auctioneers, said bidding had only gone up to £38,000 at the sale in Newbury.
He added it was "a surprise, bearing in mind the importance of the drawing", but that it was "a sign of the times".
Mr Parker, the firm's picture specialist, described the painting as a "key part" of local history and added that Turner was "one of the greatest landmark British artists of the 19th Century".
The painting will return to the client, also based in Newbury, and it is not known if it will be put up for auction again.