Shaleem Amar murder: Four guilty of hammer killing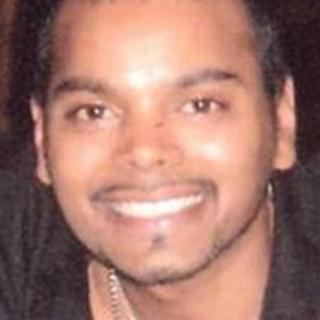 Four men have been found guilty of murdering their business partner who was found dying and covered in sand in the back of a van in Berkshire.
Father-of-three Shaleem Amar, 33, died after being struck with hammers.
He was found when police stopped a white van in London Road, Sunningdale, Ascot, in November 2010.
Jurors convicted Robert Derek Johnston, 57, his sons Tom, 25, and Ben, 27, and friend Shaun Matthews, 56, all of Cambridgeshire, at Reading Crown Court.
The jury found Tom Johnston and Matthews guilty on Monday afternoon, while Robert Derek Johnston and Ben Johnston were found guilty on 15 December.
The Johnstons, all of Town Lane, Pampisford, near Cambridge, and Matthews, of Duxford Road, Whittlesford, near Cambridge, had all denied murder.
They will all be sentenced on Tuesday.
Bleeding profusely
The married father of three is thought to have been attacked by the four men at a luxury house he was renting in Sunningdale.
Police found him inside a rubble sack in the back of Johnston senior's Mercedes Sprinter van, covered in 50kg of sand.
He was bleeding profusely from a wound to his head and had suffered a fractured cheekbone and defensive wounds to his hands.
Bloodstained hammers were found in a satchel in the footwell of the van.
The jury was told there was no clear motive for the murder but that Mr Amar and Johnston senior were partners in a fraudulent operation carrying out a complicated VAT fraud.
The van was stopped on the A30 London Road on 17 November 2010 after police were tipped off about a possible crime.
When police noticed the men's clothing was covered in blood one of the men claimed he was a decorator, and that it was paint.
It was some time later, after one of the men had escaped and been recaptured and the others had been arrested, that Mr Amar was discovered.
Witnesses told the BBC at the time that police appeared to hold the arrested men at gunpoint for more than 45 minutes before discovering the victim's body was in the van.
'Evil and barbaric'
The Independent Police Complaints Commission investigated the actions of Thames Valley Police but found officers had acted reasonably in the circumstances.
During the four men's defence, Johnston senior, who is known by his middle name of Derek, told the court that he hit Mr Amar with a hammer in self-defence after the pair argued over money.
Johnston senior was captured on CCTV buying three club hammers, four pairs of gloves, a wheelbarrow, a torch and bags of sand from a builder's yard the day before the murder.
Speaking after the case, Det Supt Karen Trego, of Thames Valley Police, said: "The Johnstons and Matthews bought items to carry out the murder from a builder's yard and drove to Sunningdale on the morning of 17 November with the aim of murdering Mr Amar.
"Although a clear motive for the attack has not been established, we believe the murder was motivated by a breakdown in their business relationship, primarily over money.
"My thoughts are with the Amar family at this difficult time."
In a statement, Shajiba Amar, the widow of Mr Amar, said: "These four men are responsible for murdering my husband and the father of my three children.
"Their calculated planning of my husband's cold-blooded and violent murder was nothing short of evil and barbaric.
"They showed no mercy. Every part of me wants them to suffer as they have made me and my children suffer."