Berkshire father and son share medical alert dog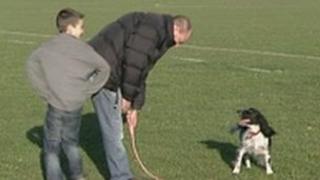 A father and son from Berkshire, who have both been diabetic since the age of two, are using a dog to help them manage their condition.
Neil Downing and his eight-year-old son Jack, from Reading, have Type 1 diabetes.
It stops a person's body from producing insulin in the pancreas, which controls blood sugar levels.
As their levels change so does the smell of their breath which their medical alert dog, Roots, detects.
'Waiting list'
Mr Downing said if his blood sugar levels drop rapidly he can collapse within seconds.
"You can't talk, you can't co-ordinate and you can't even warn someone what's going on - it just happens so fast," he said.
Roots, a male cocker spaniel, is one of 19 dogs in the country which are specially trained by the charity Medical Detection Dogs to help people living with diabetes in their own homes.
It costs £10,000 to train a dog like Roots.
Claire Guest, from Medical Detection Dogs, said: "We already have a very large waiting list, so we're becoming aware that there are many people in the same situation as Neil and Jack who could really benefit from a dog."
Jack said: "I can go somewhere now knowing that I'm safe and he [Roots] can look after me."