Food parcel demand 'increasing' in South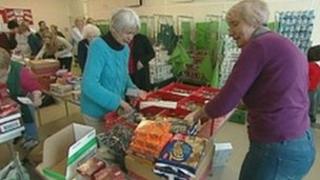 The demand for food parcels in the South is rising, according to charities and food banks across Berkshire, Hampshire, Oxfordshire and Dorset.
The Salvation Army in Reading said its Christmas parcel numbers had "almost doubled" in the past two years.
Similarly, Oxford Food Bank and Waterside Food Bank in Southampton said demand for their services had risen by about a third in the past year.
In Dorset, Poole Food Bank, created by Longfleet United Reformed Church, reported a "steady increase" in the number of people needing its services.
'Emergency' food
"Some figures have doubled from one month to the next," said Lorraine Russell, manager of Poole Food Bank which supplies "emergency" food parcels to people in the Poole area.
Ms Russell added: "We gave food to 288 clients last month - that's individuals, couples and families of various sizes.
"In November 2010 we supplied food to 205 clients."
The Berkshire branch of the Salvation Army said it had already made up 800 boxes of non-perishable food, such as tinned soups and tea bags, for this festive season and expects there will be more.
Two years ago the charity distributed about 500 Christmas parcels to people who were identified by Social Services as those "most in need" in the Reading and Newbury areas.
Volunteer Stuart Scott said: "There are a lot of people out there who are poor and living on the bread line."
Robin Aitken, co-director of Oxford Food Bank, said: "We now run two vans a day instead of one to meet increased demand.
"The vans run seven days a week and each one makes a total of about 15 drops every day."
'Low income'
The volunteer-run service supplies unwanted fresh food produce from supermarkets to about 30 charities across Oxford, including homeless hostels, children's projects and women's refuges.
"Last year we distributed about £250,000 worth of food and this year it's more like £350,000 worth," Mr Aitken said.
"I think it's down to the the budgets of the charities we serve, which are under increased pressure because of government cuts."
Waterside Food Bank in Blackfield, Southampton, supplies food to rural villages along the A326 from Ealing to Calshot and out to Beaulieu.
Co-ordinator Jan Hayter said: "I think increased demand is down to low income and a general level of debt.
"A couple of large bills a month can cause major problems for a family."
Ms Russell, from Poole Food Bank, said the economic downturn meant people were "feeling the pinch".
She added that delayed benefits, job losses, domestic violence, low income and homelessness were some of the reasons people were in need of the service.