Reading rail commuters learn about Christmas closures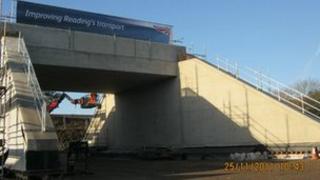 Passengers have a chance to find about the rail improvements taking place over Christmas in Reading at a public exhibition in the railway station.
Staff from Network Rail, First Great Western and Reading Borough Council were on hand from 08:00 until 19:00 GMT to talk to commuters.
Cow Lane Bridge will be replaced and widened over December and January, and a new station platform created.
Platforms also be renumbered at the station over Christmas.
'Notorious bottleneck'
Diversions for car drivers will be in place from 24 December to 30 January while the first of Reading's two Cow Lane bridges is replaced with a new structure.
Replacing the bridge will allow for two lanes of traffic, a cycle lane and a pavement under the narrow barrel arch of the bridge.
It will mean double-decker buses can use the road.
Network Rail project director, Bill Henry, said the bridges were a "notorious bottleneck".
"Work to the second bridge will finish in 2015, when motorists will feel the full benefit of the project," he said.
At Reading station a new platform four will be brought into use over Christmas.
This means several other platforms will be re-numbered.
Mark Hopwood, managing director, First Great Western, said it was the "perhaps one of the most significant railway upgrade schemes currently being undertaken anywhere in the country."