Asian gold 'targeted by burglars' in Berkshire home raids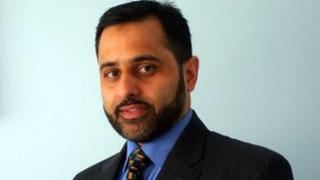 A man has set up a community watch group after burglars targeted a series of Asian family homes for gold in Berkshire.
Shakeel Khan, 41, from Earley, Reading, has so far had 40 members sign up.
"We as residents have to become more active and involved in taking care of each other - the police can only do so much," he said.
BBC Asian Network reporter Philip Churm said Asian gold was highly desirable because of its purity.
Gold worth thousands of pounds was taken from five homes in Wokingham and Reading, on Friday.
'Absolutely petrified'
Mr Khan told the BBC that there was fear within the Asian community.
"I know a number of households where women are absolutely petrified," he said.
"They're not leaving their homes in fear of being burgled.
"There's mothers who don't want to go and pick up their children. They're asking the dads to come from work and pick them up.
"We're asking the police to do more."
Ch Insp Christian Bunt, area commander of Wokingham, said police were increasing patrols in the area and had delivered 1,000 crime prevention advice leaflets.
He advised the community to be "extremely vigilant" and that investigations were ongoing.
BBC Asian Network reporter Philip Churm said one of the factors in the burglaries was the increase in the price of gold since the credit crunch.
"Asian gold is incredibly high in its purity and that increases its value even more," he said.
"That's made many homes and even individuals very vulnerable."
Mr Khan said incidents seem to be taking place during the day.
"It appears to be that they are monitoring properties," he said.
"They've got in as soon as someone has left the property.
"But we are working with police and local council members to make sure that we get more active in trying to stamp out this terrible burglary issue that we're facing at the moment."