Reading A4 Bath Road crossing campaign after boy hit by car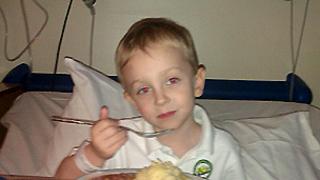 The mother of a four-year-old boy who was hit by a car is campaigning to change a new road crossing in Reading.
Vicki Diamond's son Alex ran out in front of a car on the A4 Bath Road on his way to school last Wednesday.
He saw the green man on the opposite side of the new puffin crossing, but did not see his side was still red.
Parents want the old pelican crossing back. West Berkshire council said it had taken action to make the new crossing safer.
Online petition
Puffin crossings have the red and green man signal by the button on the near side of the road, rather than on the opposite side like a pelican crossing.
Mrs Diamond, a mother of three, said other pedestrians on the school run were obscuring this signal.
"Alex looked across the road and saw the green man for the opposite side of the carriageway and just ran out in front of a car," she said.
"Luckily the driver of the car was only crawling along, but if the driver had been going any faster then it would have been a lot worse."
Alex is still off school after he was taken to hospital to treat a minor head injury and grazes on his leg.
An online petition against the new puffin crossing has more than 200 signatures.
Councillor David Betts, member for highways, said: "We believe it's a question of familiarity and that the crossing we've put in is an improvement."
He added the council had now installed more signs, organised safety assemblies at the nearby infant school and have raised the signals so pedestrians "can see them more clearly".