Victorian Broadmoor revealed in free online book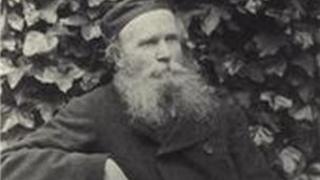 A book documenting the bizarre lives of the Victorian inmates of Broadmoor has become an internet hit but why do these characters still fascinate?
In his youth he was a celebrated artist.
In fact, such was Richard Dadd's reputation, he was taken on a grand tour of Europe to paint the classical sites.
But during the trip, he gradually lost his grip on reality.
On one occasion he only just managed to restrain himself from killing the Pope at a public appearance in Rome.
Dadd was sent home but the delusions got the better of him. Eventually, he believed he was controlled by the Egyptian god Osiris and he stabbed his father with a knife during a walk in the park.
He is one of the cases documented in Broadmoor Revealed: Victorian Crime and the Lunatic Asylum.
Available for free, the e-book is in the top 20 of some listings for the most popular downloads
Another Victorian that features in the book is William Chester Minor, an American surgeon who was institutionalised for shooting a man.
He witnessed some of the most horrific battles of the American Civil War.
His experiences possibly explain the sexual terrors he claimed were inflicted upon him by intruders while he slept.
Despite continuing to suffer these delusions during his time in Broadmoor he became a prolific contributor to the first Oxford English Dictionary.
The author of Broadmoor Revealed, Mark Stevens, said the hospital had an enduring appeal.
Chocolate Cream Poisoner
Mr Stevens is the senior archivist at the Berkshire Record Office and he wrote the book to promote the research being done in the Broadmoor archive.
The office holds 3,000 volumes of documents and 7,000 papers of hospital case notes.
Mr Stevens said: "Some of them are very repetitive medical observations - 'Body healthy, delusions still present.'
"Others are fantastically detailed."
Christiana Edmunds is one of the women in the book.
The Chocolate Cream Poisoner, as she became know, used strychnine-laced food parcels to terrify the residents of Brighton.
Her reign of terror was prompted by a married man who spurned her.
At first, she tried to poison him by lacing his food. However, she then started to tamper with food laid out in shops before sending out poisoned parcels.
It took Mr Stevens about three years to compile all the information but the actual task of writing the book was quite a quick one.
"I do lots of talks about the topic and people were always telling me I should put it in a book," Mr Stevens said.
"Eventually I put aside some time this summer and did it."