Ascot house explosion couple remain in hospital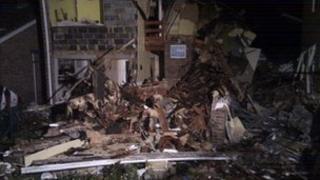 A couple who were injured in a suspected gas explosion at their home in Berkshire remain in hospital.
John and Sylvia Munro, both in their seventies, of Sutherland Chase in Ascot are being treated for burns.
Mr Munro is described as being stable and comfortable. Mrs Munro's condition is not yet known.
Investigators have begun work to discover what caused the explosion and partially destroyed the property on Wednesday.
'Serious explosion'
A statement on behalf of the Munro family said: "We have been overwhelmed by messages of support from friends and colleagues, and would like to thank everyone for their kindness.
"This is a tough time for us."
Olaf Baars, from Royal Berkshire Fire and Rescue Service, said reports it was caused by gas were "speculation".
Mr and Mrs Munro were airlifted to a hospital in Southampton following the blast early on Wednesday afternoon.
A police cordon remains in place around the house and neighbouring properties.
Mr Baars said: "It was clearly a serious explosion and fire, causing structural damage.
"It will be the subject of a multi-agency investigation."
'Cloud of dust'
Neighbours said the front of the house was demolished, leaving the top of the stairs exposed and a large amount of rubble in front of it.
Simon Ross described the moment his own house, 100 yards (90m) away "shook to the ground".
"We went outside to see a cloud of dust clear to see half the [other] house gone with the right side partially collapsed," he said.
Along with other neighbours, he helped Mr and Mrs Munro from the wreckage of the house.
"There is a good community around here and people rallied around and did what they could," he said.
Structural engineers are set to examine the house and neighbouring properties.
Thames Valley Police were called to the "badly damaged" detached house at 12:23 GMT on Wednesday.
Sealed off
Engineers from National Grid, which is responsible for gas supplies in the area, attended the incident alongside the fire service.
A number of properties in Sutherland Chase and nearby Nash Gardens were sealed off by police, but most residents were allowed back to their homes by 18:00 GMT.
A spokesman for National Grid said engineers had cut off the gas supply to the property.
But he added it was "too early to speculate on the cause of the explosion at this time".
The area has not yet been declared safe, but there are not believed to be any other casualties.