Naomi House hospice worker wins Digital Heroes award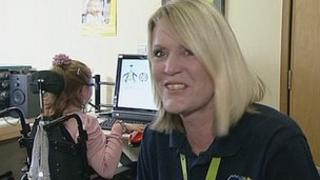 "Just seeing them smile, that's enough for me," said Claire Floyd, a play team worker at a Hampshire hospice for terminally ill children.
Her innovations in making computer technology more accessible to disabled children at Naomi House in Winchester have now been recognised with an award and a £5,000 grant.
Ms Floyd has tirelessly worked to educate other workers at children's hospices and has pioneered the use of a mouse with an extendable arm to enable children to use computers from their beds.
"We've got mobile desks that can go up and down but to unplug a PC can be really difficult," she said.
"We had to come up with a solution to get children to access the equipment we've got for them."
Ms Floyd hit on the idea of using an existing mouse for children with special needs called a Big Mac Switch, which resembles a large red button that clicks, and then pairing one up with an extendable arm.
"I trawled through catalogues to find what I was after," she said.
Children at the hospice, many of whom are not expected to reach adulthood, are now able to access computers and be in touch with the outside world.
"The reason why I was nominated was because I was pushing so hard for these children to be able to access computers and technology.
"This will keep them in touch with their peers and their friends, and when they come here it doesn't close them off from the rest of the world.
"It's normal for my teenagers at home to access a laptop and it should be the same for these children."
Ms Floyd won the South East region Digital Heroes Award from Talk Talk and will be honoured at the House Of Lords on Thursday, where she will also find out if she has won the national award that comes with a further £10,000 prize.