Hawker Hurricane replica honours Sir Sydney Camm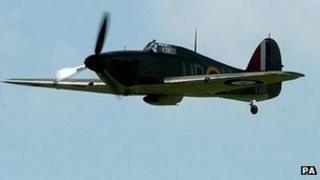 A replica Hawker Hurricane aircraft will go on display in Windsor in memory of its designer, Sir Sydney Camm.
The World War II fighter plane will sit alongside the River Thames in Alexandra Gardens.
The aircraft will be a reproduction of the plane flown by Battle of Britain pilot, and Marshal of the RAF, Sir John Grandy, who was also from Windsor.
Funding for the £39,000 memorial has been raised by the Sir Sydney Camm Commemorative Society.
The monument will sit a short distance from Camm's former home in Alma Road, Windsor, where he made model aeroplanes as a boy.
Air Vice-Marshal Leslie Phipps, of the society, said: "He's never got the recognition that some of his illustrious predecessors have.
"The Hurricane felled more enemy aircraft than the combined total of all the other aircraft and the land forces combined."
He is credited with more than 50 aircraft designs which led to more than 26,000 aeroplanes being built.
The plastic plane will be painted in camouflage colours with WWII markings and RAF Squadron Leader Grandy's identification code on its side.
Mr Phipps said: "It will be a replica of the aircraft that he was shot down in whilst flying from Essex. He met enemy bombers during the second scramble of the day and came down."
The memorial is expected to be in place by late April.