Heatherwood hospital in Ascot 'could be privatised'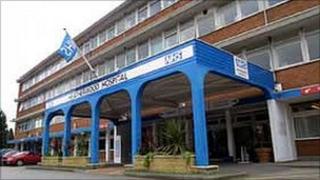 Hundreds of residents turned up to a meeting on the future of a Berkshire NHS hospital that could be privatised.
Berkshire NHS Trust representatives put forward a series of options for Heatherwood in Ascot at the event.
The options include closing the hospital, reducing services or privatising it.
Campaigners want the hospital to remain open, but NHS Berkshire said it was "not wedded to any particular proposal".
'Stripped down'
Campaigner Marc Green, from Slough And Windsor Against The Cuts, said the meeting was "very successful" but was against the privatisation option.
"We want Heatherwood to stay open and invested in as a NHS hospital," he said.
Helen Mackenzie, Director of Nursing at NHS Berkshire, said: "Four potential options were highlighted at the meeting.
"Nothing has been decided and all options need to be rigorously tested around clinical need, safety and affordability."
Under one proposal Heatherwood would provide hospice care, with nearby Wexham Park Hospital in Slough providing planned operations, emergency treatment, outpatients appointments and maternity care.
Other options would have the hospital providing only planned treatment.
Current services include a minor injuries unit, which has about 20,000 attendances per year, and a birthing unit.
The birthing unit closed on 27 September due to staff shortages but its head of nursing Deirdre Thompson said the closure was only temporary.
An NHS Berkshire spokesman said the feedback from the meeting would be used to shape the proposals for a public consultation due next year.