Shaleem Amar hammer killing 'in self-defence'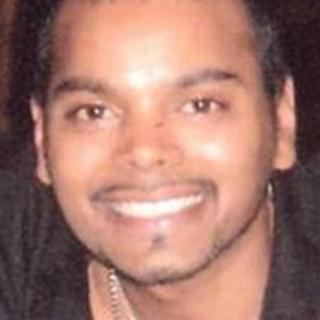 A hammer-wielding man killed his business partner as he feared the father-of-three was going to shoot him, a jury has heard.
Shaleem Amar, 33, from Berkshire, sustained fatal head injuries on 17 November 2010.
The killing is believed to have happened at a luxury house Mr Amar was renting in Sunningdale near Ascot.
Robert Derek Johnston, sons Tom and Ben and his friend Shaun Matthews, all from Cambridgeshire, deny murdering Mr Amar.
Robert Johnston, 57, who is known by his middle name, told Reading Crown Court he hit Mr Amar many times with at least one hammer after the pair argued over money.
Mr Amar was found in the back of a van, allegedly owned by Johnston senior, covered in 110lb (50kg) of sand.
The court heard the 57 year old was at Mr Amar's house with a bag full of hammers because he and the other three men were going to build Mr Amar a smoking shelter.
'You're dead'
But Mr Johnston said Mr Amar was reaching for a gun and threatening to kill him after they argued over money in the kitchen.
"He was shouting that he was going to kill me and I was defending myself," said the 57 year old under questioning from defence lawyer Nigel Rumfitt QC.
Mr Johnston said he grabbed a hammer from a carrier bag on the work top after Mr Amar punched him and started to get his gun, shouting "you're dead".
"I was thinking if I don't get the better of him he is going to end up shooting me," Mr Johnston said.
He added that he hit Mr Amar repeatedly on the head with at least one hammer.
He said his son Ben broke up the fight, at which point Mr Amar fell to the ground and did not get up.
The trial of Mr Johnston, his two sons, Tom, 25, and Ben, 27, all from Pampisford, and Mr Matthews, 56, from Whittlesford, continues.