Sydney Camm honoured with life-sized Hurricane plane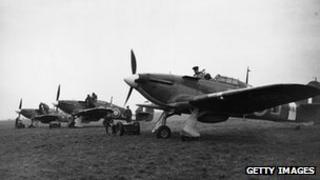 A Berkshire man who designed the Hawker Hurricane - the plane which helped win the Battle of Britain - is to be honoured with a memorial in his home town.
A replica Hurricane is to be installed in Windsor town centre to commemorate Sir Sydney Camm.
Funding for the £39,000 permanent memorial for the aeronautical engineer has been raised by the Sir Sydney Camm Commemorative Society.
John Foster, a former RAF pilot and chairman of the society, said the Hawker Hurricane, which Sir Sydney designed in the 1930s, was a "radical design" in terms of "speed, agility and strength".
He said: "As well as its agility it was very easily maintained, simple to fly and was popular with aircrews and ground crew alike. It was very sturdy.
"The Spitfire is a fantastic aircraft, but during the Battle of Britain the Hurricane shot down more aircraft than all other aircraft and ground fire combined."
Sir Sydney designed planes which spanned every stage of design from the first manned flights to the jet age.
Over the course of his career his designs included the Typhoon, Tempest, Sea Hawk, Hunter and finally the Harrier jet fighter bomber, which pioneered vertical flight.
However, he came from humble origins. He was born in Alma Road, Windsor, his father was a carpenter and he left school at 14.
Sir Sydney began his career in aeronautical engineering as a member of Windsor Model Aircraft and Gliding Club.
Manned glider
As a young boy he made money selling his model planes to Eton school boys.
By 1912, he had created a manned glider which flew in Windsor Home Park the following year, only a decade after the Wright brothers took to the skies for the first time.
By the age of 20, Sir Sydney had joined Hawker Aircraft Company (later Hawker Siddeley) at Kingston-upon-Thames as a senior draughtsman, becoming chief designer two years later in 1925.
It was there that he designed the Hawker Hurricane in the 1930s.
The project to create a memorial to Sir Sydney started after a memorial service was held in Windsor to commemorate the 40th anniversary of his death.
The life-size replica, made of plastic, will be a copy of the plane flown by Battle of Britain pilot, and Marshal of the RAF, Sir John Grandy, also from Windsor. It will be unveiled next April.
A scholarship fund will also be set up in his name.
Mr Foster said: "He has been described as the greatest aeronautical engineer that ever lived, due to longevity and versatility.
"In the 1930s, 85% of the Royal Air Force aircraft were his designs."