Paddington crash survivor Pam Warren explores trauma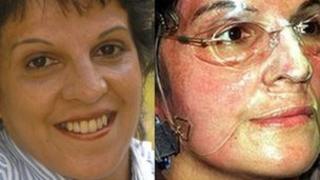 Few of us can imagine how we would react if the train we were travelling in crashed and turned into a fireball.
Berkshire woman Pam Warren survived the 1999 Paddington rail crash, but suffered severe burns to her face and hands.
She became known to the media as the "lady in the mask", as the burns on her face slowly healed and she was forced to wear a mask to reduce the effect of scarring.
Since the crash, Ms Warren has become fascinated by how people cope with traumatic events.
Today she has learned to live with the physical and psychological effects of her ordeal and has braved the media in her campaign to make railways safer.
'Belch' of smoke
While recovering from her own facial burns, she came to know fellow burns survivor Simon Weston OBE, who was engulfed in fire when his ship was bombed in the Falklands War.
He was the first person she was able to confide in that she was drinking too much in order to cope with the trauma she had experienced.
Following his ordeal Mr Weston said he also became too reliant on alcohol.
"Anyone who's been through a life-changing event, from bereavement to a terminal illness, all of those things bring a huge amount of trauma," he said.
"For some of us alcohol is a refuge. It's a false refuge, because it's a destructive refuge.
"You want to be lost, you want to be numb.
"When I was filmed drinking out of a bottle, that shook me. It was embarrassing, it was not me, it was something I didn't like."
Mr Weston said a "belch" of smoke and flames as a bomb hit his ship was the last thing he saw without being scarred.
"That's war," he said.
"There's nothing in the manual which prepares you for being on board ship as infantry and being attacked by aircraft."
John Peters is an RAF officer who was held hostage and tortured by Iraqi soldiers for 47 days in 1991.
He had bailed out of a burning Tornado jet near Baghdad after being hit by an aircraft missile and guns.
He was hit with truncheons, deprived of sleep, burned with cigarettes, kept in solitary confinement, subjected to mock-executions and threatened with gang rape before being paraded on TV.
'Contain horrors'
He said a combination of his personality and training helped him recover from his experience.
"I am a shallow, arrogant, fast jet pilot," he said.
"A certain character wants to fly jets. I spent ten years preparing myself to go to war.
"I could contain my horrors, it was in Iraq, it was in war, it was an abnormal circumstance."
He said returning to normal life had been "easy" for him, despite a "media circus" on his return to the UK.
However, civilians with no military training such as Tim Coulson must call on reserves of inner strength to remain calm in a crisis.
Mr Coulson smashed a train window and forced his way into a tube carriage along with two others to help injured people caught up in the 7 July tube bombings in 2005.
He was travelling in the adjacent carriage to the one blown up by Mohammad Sidique Khan as it left Edgware Road tube station.
Businessman Michael "Stan" Brewster died in his arms and he saved the life of a young Australian office worker, Alison Sayer.
However, the former teacher from near Henley-on-Thames said he did not feel "heroic".
"I felt it was critical to comfort Stan in any way I was able to and to ensure what I truly believe, that nobody should die on their own.
"Working with Alison, I was determined she wouldn't die"
Mr Coulson and Mrs Warren both said they had experienced an "eerie calmness" in the aftermath of the crash.
"There was a recognition we don't know what has happened to us but we need to work together to make it a better place. There was a distinct peace at that time," he said.
Mrs Warren agreed. "One thing I remember from the crash was how calm everybody was, how calm and helpful," she said.
You can hear more of Pam Warren's interviews at 09:00 GMT on Thursday 17 November 2011 by listening to BBC Radio Berkshire