Sir Douglas Bader's crash log book sells for £23,500 at auction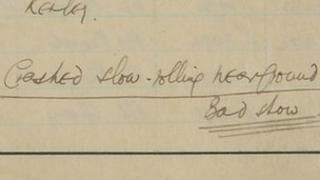 A log book by World War II pilot Sir Douglas Bader which records the crash in which he lost his legs has sold for £23,500 at auction.
Bader nearly died in the crash at Woodley Airfield, near Reading, Berkshire, in 1931 but he learned to walk again using artificial legs.
The log book, which was sold in Gloucestershire, had been expected to fetch between £20,000 and £30,000.
Other Bader-related items were also sold.
Original transcripts for "Leg Operation" went under the hammer.
After the Germans took Bader prisoner, they asked Britain for a new tin leg for the pilot.
It was delivered by parachute into France, the aircraft having been guaranteed safe conduct by the Nazis, in what became known as Leg Operation.
The log book entry after Bader's fateful crash reads: "Crashed slow rolling near ground. Bad show."
The items were auctioned by Dominic Winter Book Auctions in Cirencester.