Bullets from English Civil War found in Newbury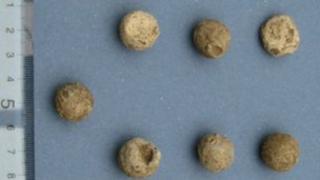 Bullets dating back to the English Civil War have been found in a field in Berkshire by archaeologists.
The bullets, dating back to 1643, were discovered during Thames Water's exploration work before pipes were replaced in Essex Street, Newbury.
The seven bullets were found buried in a field adjacent to the road.
Archaeologist Mike Hall said it proved there would have been "fierce fighting" there, during the Battle of Newbury.
According to Mr Hall, this first battle in the area was over within a day, leaving 6,000 dead.
Museum display
"It was over a large area from the Enborne Valley to Wash Common and Crookham Common," he said.
"A concentration of bullets like this implies we were in a fairly hairy bit of the battle field."
Mr Hall said the team had decided to explore the area with archaeologists as it was known to have been the site of battles between Royalists and Parliamentarians during the late 17th Century.
The bullets will eventually go on display at West Berkshire Museum.