Gold found in Slough gully is 'English antique jewellery'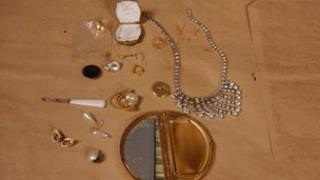 A pot of gold found in a drain in Berkshire is believed to be English antique jewellery, police have said.
The gold was found in Slough earlier this month by a road cleaning crew and has prompted 30 people who were recently burgled to call police.
It may have been left in the gully by thieves, to collect later, police said.
But despite a "spate" of thefts of Asian gold over the past year, officers said the gold was English and possibly antique.
Asian gold is a different colour to English gold and is normally worked into different styles of jewellery, a police spokesman said.
The stash was found at the edge of Cranbourne Road off Cippenham Lane and included necklaces, watches, rings and earrings.