Windsor and Maidenhead spends extra £115,000 on grit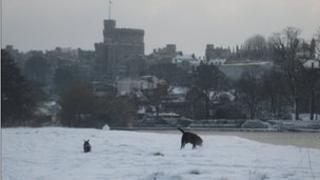 A Berkshire borough is spending an extra £115,000 on grit this winter in anticipation of snow and ice.
The Royal Borough of Windsor and Maidenhead (RBWM) says it has bought 1,600 tonnes of grit, enough to last for 12 days of bad weather.
It is also hoping to recruit farmers to help with the gritting effort.
So far the borough has only recruited one farmer, the deputy mayor, Councillor Colin Rayner, who owns 20 tractors.
September and October have gone on record as the sixth and eighth warmest in the UK since records began in 1910, according to the Met Office.
Extra reserves
Phil Bicknell, RBWM's Cabinet Member for highways, transport and the environment, said the borough also had extra reserves of funds as a contingency budget in case of severe weather.
"We've got a huge budget," he said. "We are in austere times, but we do take the bad weather very seriously. If necessary we can put a lot more money behind that.
"We've got a contract in place, so we can add to our grit when it starts getting close to running out."
However, Mr Bicknell told BBC Berkshire he did not think it was going to snow.
East Berkshire crop farmer William Emmett said he was unconvinced by the idea to ask farmers to help out with gritting roads.
"It would be very difficult for farmers to come out in the middle of snow, in an organised and structured way, because there is such a volume of traffic on the roads in our area."