Ben Marwood working on new album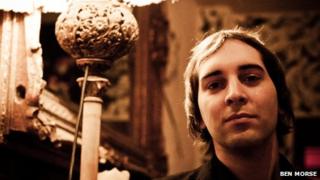 Reading singer-songwriter Ben Marwood is working on his second album following a successful sell-out tour supporting label mate Frank Turner.
Signed to Xtra Mile Recordings, also home to Chris T-T and Future Of The Left, the 30-year-old released his debut album Outside There's A Curse to high acclaim.
Though the process of recording it was maddening, he said, as it was made entirely in his bedroom on old eight-track.
"I might've pushed the limits of my brain doing that," he said.
So for his next offering, he is recording it a local studio in Reading with his "long-suffering engineer".
Ben is currently on a Something For The Weekends tour, as he has run out of time off at work to perform during the week.
"Because I went out with Frank in May I exhausted all my annual leave," he said, "so I thought I'd book some gigs in the weekend, how hard can it be?"
Despite an exhausting schedule he said the tour is going well, thanks to new fans made since signing to Xtra Mile.
"I'd always wondered up to that point whether it was just me and a selection of ffriends who thought I could play guitar," he said, "but it turns out that if you put me in front of other people they think I'm okay."
Ben Marwood is performing at the Rising Sun Arts Centre in Reading on 19 November and the Old Vic in Swindon on 24 November.