Newbury band Worship in Wales to work on new music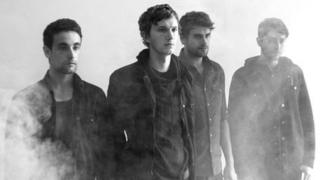 Worship have had a busy summer, playing Glastonbury on the BBC Introducing stage, which then led to the band's track Collateral appearing on Radio 1's BBC Introducing playlist.
Now, the Berkshire band are holed up in Wales, near Brecon, in a house in the middle of nowhere to work on some new music.
"We're planning to start recording our album early next year," said frontman Tim Baggott, "so we're doing a month-and-a-half of just seeing what ideas we come up with."
The band, who formed in 2010, launched themselves with some expertly recorded demos, including The Midnight Sun which was inspired by a similar song-writing trip to Norway last year.
In Wales, the band maintain a dedication to their song craft by working all day.
Jamming
"We've barely been out the house," said Tim, "it's about getting away and having a focus without any distractions.
"The TV has only been on for one day and we've watched a couple of films, but really we've just been trying to get on with it".
The band's routine is to have a jam and experiment with sounds.
"I think we've got the best results when one of us has being playing keys and I just try and make stuff up on the microphone as we go along," said Tim.
"A good drum beat or a guitar line might spark off another idea."
Rather than singing words, Tim said he sings "nonsense".
"It might be some of the sounds work and we try and work some lyrics into it from there.
House Of Glass
Their forthcoming single House Of Glass was written in the band's home town Newbury, and was developed over a couple of months.
Tim said the song is typical of the Worship sound.
"With most of our songs, they're not overly happy or overly sad, they don't focus on one emotion or one situation.
"House Of Glass is a good example of hovering between a love-hate relationship but there are lyrical hints in there that it could be way darker than your average spat."
The video to the single shows footage of a happy moment between a couple that rewinds to reveal a darker beginning.
Tim said of the female character: "She tries to get away but in the end she comes back for more, because there is something that is tying her to him."
House Of Glass is released on Monday 21 November.